WIRA PROVES TO BE THE BEST



Tawau, Thurs; Wira House walked with pride and joy today as they had proved to the other houses that they were the best by winning the overall champion in the 25th Edition of the Sport's Day of SMK Kinabutan in Tawau this morning. They defeated other houses namely Waja, Perdana and Satria which came in second, third and forth place respectively.



Early this morning, the 25th Edition of the Sport's Day of SMK Kinabutan was officially opened by Encik Nizam Datuk Seri Panglima Abu Bakar Titingan, Tawau UMNO Youth Head as well as Sabah State UMNO Youth vice Head. In his speech, he urged the students to grab the opportunity to participate in sports actively in order to develop them. Besides, he believed that by choosing sports as the way of life the young generation would live a healthy life and avoid the negative elements that might destroy their future. Before ending his speech, Encik Nizam had generously donated 33 pieces of track suits for the use of the school athlete.



There were 12 final events held this morning and out of 12, Wira won 6 of them. In the final results, Wira led the houses by collecting 21 golds, 17 silvers and 5 bronzes. This was far ahead of Waja with 13 golds, 15 silvers and 14 bronzes. The last year's overall champ, Perdana won 9 golds, 7 silvers and 14 bronzes. Meanwhile, Satria finished last with 7 golds, 11 silvers and 17 bronzes.



Waja, on the other hand, won the Best House Decoration and Perdana came in second. As for the marching competition, Satria showed to the other houses that they still had something to be proud with by winning the House Category. This was followed by Waja and Perdana for the second and third place. Pasukan Bomba & Penyelamat won the marching competition for the Uniformed Unit Category, while Kadet Polis Lelaki and Persatuan Bulan Sabit Merah (PBSM) won second and third place respectively. There were seven teams competing in the Uniformed Unit Category.



Before the day ended, Wira House camp once again jumped joyfully when two athletes from their house were announced as the Sportman for under 18 and Sportswoman under 15. Mohd Hafizan Syah won 4 golds in 100m, 200m and 400m and 4 x 100m and 1 silver in 4 x 400m. Norfarahim Gelit won 4 gelds in 400m, 800m high jump and 4 x 100m and 1 silver in 4 x 400m. Sportswoman under 18 won by Nurain Tang from Perdana by winning 2 golds in 800m and 1500m and 2 silvers in 4 x 100m and 4 x 400m. Md Fali Irfan from Waja walked away with the Sportman under 15 title after collecting 4 golds in 100m, 200m, 400m and 4 x 100m and 1 silver in 4 x 400m.



According to Teacher Head Advisor of Wira, Encik Mazlan Kanun, this year's glorious achievement was as the results of hard work and commitment given by the teachers and fellow members of the house. He thanked everyone involved in making this dream a reality.



All prizes were presented by the heads of departments and senior assistants of SMK Kinabutan.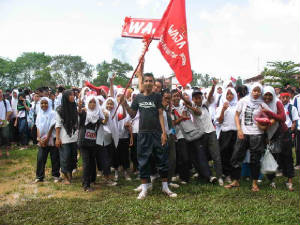 KEPUTUSAN PENUH KEJOHANAN OLAHRAGA TAHUNAN KALI KE-25

Pertandingan Rumah Tercantik
Johan: Waja
Naib Johan: Perdana

Pertandingan Perbarisan Rumah Sukan
Johan: Satria
Naib Johan: Waja
Ketiga: Perdana

Pertandingan Perbarisan Unit Beruniform
Johan: Kadet Bomba & Penyelamat
Naib Johan: Kadet Polis Lelaki
Ketiga: Persatuan Bulan Sabit Merah

Olahragawan L18: Mohd Hafizan Syah (Wira)
Olahragawati P18: Nurain Tang (Perdana)

Olahragawan L15: M Fadli Irfan (Waja)
Olahragawati P15: Norfarahim Gelit (Wira)

Keseluruhan
Johan: Wira (21E, 17P, 5G)
Naib Johan: Waja (13E, 15P, 14G)
Ketiga: Perdana (9E, 7P, 14G)
Keempat: Satria (7E, 11P, 17G)